Religious Education
Reaching for the Stars with Aspiration and Hope
Our Christian Values: Respect, Motivation, Cooperation, Kindness, Pride, Perseverance
These Values are seen as curriculum drivers and learning behaviours to succeed and 'Reach for the Stars'. They were chosen by our church school community, with our church school community and their needs in mind. Our values are rooted in the teachings of Jesus Christ and we use our learning from the Biblical texts to inspire us in our learning, providing us with Aspiration and Hope.
Respect-'In the Gospel of John, it is shared how Jesus got down and washed the feet of his disciples. He exclaimed that 'slaves are never greater than their masters and messengers are never greater than the ones who sent them' (13:16). The message is given that we should respect all people regardless of station.
In RE we learn to respect the differing beliefs of people around the world, demonstrating tolerance and acceptance. We explore a variety of different faiths looking at the similarities and differences and how people of faith follow their lives.
Motivation: When Jesus talks to the Rich, Young Man and then addresses his disciples (Matthew 19: 26-27), he shares the importance of motivation and living by the 12 Commandments. He encourages all people to give all that they have stating that 'with God all things are possible'
We are motivated to think and pose questions around a variety of topics and faiths.
Cooperation: 'So we built the wall. And all the wall was joined together to half its height, for the people had a mind to work.' Nehemiah 4:6. Everyone combined forces to rebuild the wall, showing great cooperation and teamwork, working against the odds
We understand the importance of cooperation. We know that we need to support each other, both in helping with work but also in being tolerant with someone who has differing views. Our RE curriculum encourages lots of opportunity to work in groups, listening to others and offering opinions in a safe and supportive environment.
Kindness: Seen in the 'Book of Jonah', where God shows great love and kindness to the people of Nineveh, by forgiving them for their sins and showing mercy.
In RE we learn to be kind to the world around us and the people who inhabit it. We develop an understanding of how important faith is to millions of people around the world. In RE we learn to be kind to the planet that God has created and to be kind to those who has differing views to ourselves.
Pride: God shows immense Pride in his Creation in the first chapter of the Book of Genesis (1:31), where he 'he looked at all he had made, and he was very pleased.'
We are proud of our Church of England school and our connection with the church and the church community. We take a pride in our quality of discussions and our written work, both in our books and in our RE Big Book. We have many differing views on religion and faith but are proud of our ability to show acceptance and tolerance.
Perseverance: Noah showed immense perseverance and faith in building an ark and filling it to God's instruction. God was so pleased with his perseverance and recognised that he was the 'only one in all the world, who does what is right' ( Genesis 7:1)
We work hard in RE and enjoy our lessons. We show resilience and know that some of the concepts within RE are complicated and difficult to grasp but we continually work hard to understand and formulate opinions and ideas. With our mixed age classes staff continually work hard to adapt the curriculum making it as relevant as possible for our children.
The importance of RE in Primary Education
The DfE, 2010 (Religious Education in English Schools) clearly establishes that religion and beliefs inform our values and are reflected in what we say and how we behave, explaining that:
RE is an important subject in itself, developing an individual's knowledge and understanding of the religions and beliefs which form part of contemporary society. Religious education provokes challenging questions about the ultimate meaning and purpose of life, beliefs about God, the self and the nature of reality, issues of right and wrong, and what it means to be human. It can develop pupils' knowledge and understanding of Christianity, of other principal religions, other religious traditions and worldviews that offer answers to questions such as these. RE also contributes to pupils' personal development and well-being and to community cohesion by promoting mutual respect and tolerance in a diverse society. RE can also make important contributions to other parts of the school curriculum such as citizenship, personal, social, health and economic education (PSHE education), the humanities, education for sustainable development and others. It offers opportunities for personal reflection and spiritual development, deepening the understanding of the significance of religion in the lives of others – individually, communally and cross-culturally.
As a Church of England school we endorse and reflect this in our practice on a daily basis, through Collective Worship, RE lessons and as a thread across the curriculum, e.g. you will often see RE content being linked to English comprehension or extended writing.
We plan and teach using the Gloucestershire Agreed Syllabus for RE, available at: https://www.gloucester.anglican.org/education/primary-religious-education/. They set out that the principal aim of religious education is to explore what people believe and what difference this makes to how they live, so that pupils can gain the knowledge, understanding and skills needed to handle questions raised by religion and belief, reflecting on their own ideas and ways of living.
This is captured well in this representation, which shows the connections Gloucestershire Schools forge to create the links between self, others and world.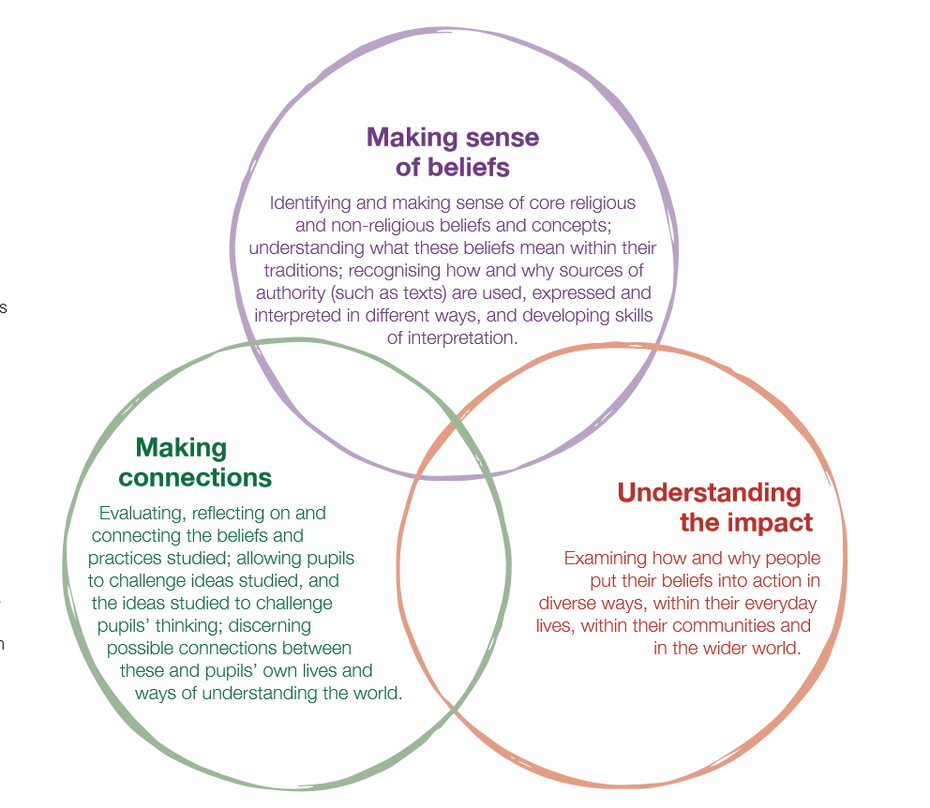 Alongside this, we have been trained to use the Understanding Christianity Resources, to celebrate and support our identity as a Church of England school. The Understanding Christianity Project (available at: http://www.understandingchristianity.org.uk/) offers a comprehensive approach to teaching and learning, including:
a theological and conceptual basis, taking seriously Christian accounts of the 'big story' of salvation and the relationship of the reader/pupil to these texts

a clear outline of core knowledge 'building blocks' in relation to Christianity, to enable teachers to see what pupils should know, understand and be able to do

support for teachers who have little or no theological training, through straightforward essential background information for the teacher about Christian concepts, theology and practice;

a teaching and learning approach to enable pupils to move from an understanding of the biblical text and how to handle it, to an understanding of what this means for Christians within the Church and in Christian living, including opportunities for pupils to examine and evaluate connections between these ideas and the wider world

flexible opportunities for assessment: these use both knowledge building blocks (suitable for 'mastery' models of assessment) and end of phase/key stage outcomes (which incorporate knowledge and the skills with which to handle, integrate and apply this knowledge). These allow pupils to make progress from surface learning to deeper learning at all ages.
As a part of our whole school cohesion in the curriculum we adopt an enquiry focus each term, e.g. being theologians, historians, geographers, artists, musicians, linguists... We believe that this creates better connectivity between the subjects, making learning more relevant to the children, so that they are inspired to 'reach for the stars' as a school team and personally.
Our RE Policy explains further our approach to the teaching of RE across the school.